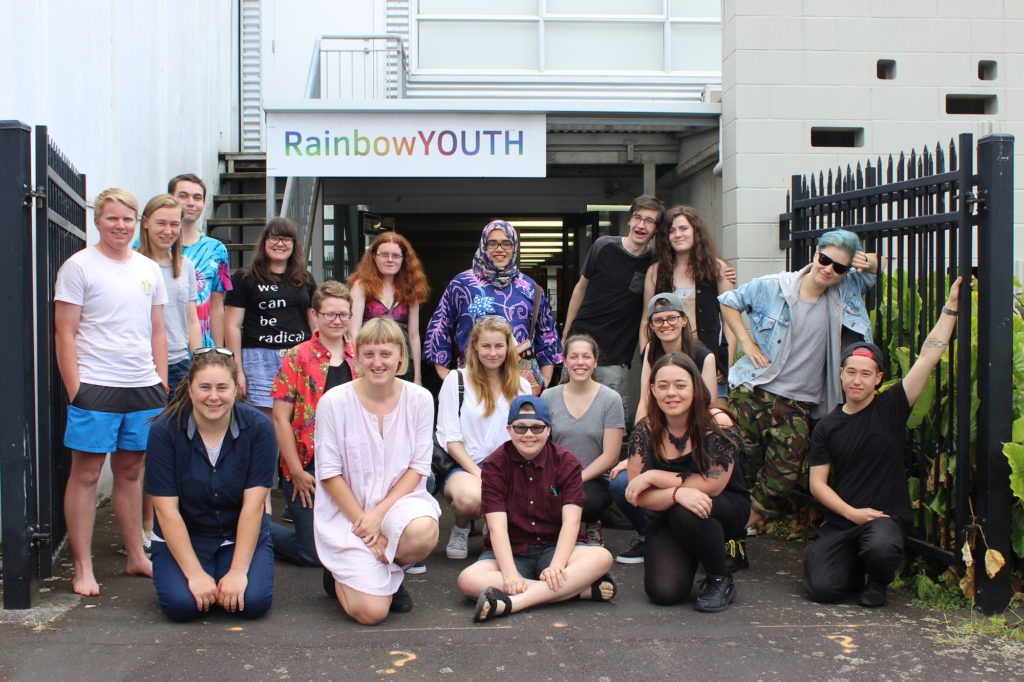 March 31st, 2018
RainbowYOUTH does Trans Day of Visibility 2018
Today we're observing Trans Day of Visibility and the complexities that come with being visible as a gender diverse person. In an effort to share what we want for the future of Aotearoa, we reached out to a few of our friends to share their whakaaro too.
Visibility is that beacon of hope reminding you that your identity is real and your identity is valid. Visibility is seeing yourself represented in a positive way. It can come from a number of places such as the media, the internet or even just local people in your community. It can help inspire you to know you are worthy and you are important. It reminds you that your identity isn't a road block, instead it's a highway to accelerate you into a bold future.
It's also important to remember when you see people being visible, that doesn't mean you have to be visible, and even if you aren't a visible person in your community it doesn't mean your identity isn't valid. It's important for you to look after yourself, and be safe in the decisions you make. Build a strong support system around yourself with the people you care about. Your strength and courage is as important as everyone else's who have the opportunities to be visible.
– Bella Simpson
In this time of division, what the transgender community and the people who call themselves allies require is open dialogue. Communication is the key for discussion, and as one may not share the same experience as a transgender person, their cultural, ethnic or spiritual background might resonate. Finding common ground creates the pathway for an open dialogue; a chance to listen, to learn and to share.
– Rafiqah Solomon
I wish to see our minister for health uphold their rainbow election policies "to reduce the barriers for gender-affirming healthcare". Currently, in New Zealand, our healthcare system is not set up to carry our transgender community; its overwhelmed, uneducated and unprepared. I want our local health providers to start taking the initiative to educate themselves and their staff. To have the strategies to better look after gender diverse clients when the moment arrives is crucial to their wellbeing. This is not the only neglected area of the health system but nevertheless it continues to be ignored.
Health providers can take initiative with tools that are present today. Amazing groups such as Rainbow Youth, Inside Out, Gender Minorities and the New Zealand Aids Foundation have resources that you may use. Here are some tips for health providers to work alongside these resources-
Do not gatekeep your patients, we know in the trans community there are obstacles we must face in order to receive hormonal treatment/surgery or even to just be taken seriously. Do not make this harder by questioning our identities, we know our identity better than you.
Use gender-neutral pronouns if the patient is new or you are unsure, or even better, ask what they would like to be called and or what pronoun they would like to use. And use it.
Make your provider's systems more diverse, try to have questions such as 'preferred name' or 'gender identity' when your clients are signing up.
If you see a colleague using transphobic language, speak up! Or try getting an educator in from the many queer educating groups in Aotearoa to have a sensitivity training for your provider.
There are now so many tools at your disposal, please take initiative and help care for our community. Trans people need healthcare just as much as everyone else
– Nathaniel Gordon-Stables
I'd love it if we could all take some time to think critically about our own gender and how we relate to concepts of gender in our own lives and communities. What does it mean to you to be a man/woman/other? Where do those ideas come from? How have those ideas changed over time? It's easy to take gender identity for granted and make assumptions based outdated or unhelpful ideas. A solid understanding of your beliefs around gender, both personal and cultural, is the best way to fight ignorance, cissexism, and transphobia.
– Lindsay Harrington
We all share the responsibility to make Aotearoa inclusive and safe for trans and gender diverse people. We need to seek out and listen to the voices of trans and gender diverse people, and make sure their voices and their identities are visible in all of our communities.
#TDOV2018